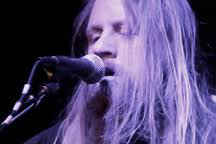 Erik Moggridge is a guitarist and vocalist who is perhaps best known for his solo work under the name Aerial Ruin, but for long time followers of metal you may remember him from Old Grandad or Metal Blade recording artist Epidemic.  From time to time, Erik also lends his vocal talents to Pacific Northwest Doom giants Bell Witch and you can hear him on their new epic "Mirror Reaper."  Today we shared music, reminisced about sharing the stage and debated traditional metal.
Closing Track "In The Glory of Nigh" by Aerial Ruin.
"I Hate Music" theme by Marius Sjoli.