Thursday Oct 07, 2021
Episode 57 - Hunter Ginn and Gael Pirlot (Canvas Solaris, Plague Psalm, Gorging Shade)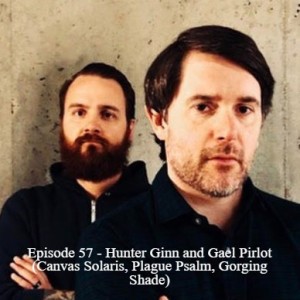 Today we tell the humidity to take a hike, and we delve into the minds of Hunter Ginn and Gael Pirlot; two linchpins in a long-running yet vibrant collective based out of Georgia.  Together these two are members of Canvas Solaris, Plague Psalm, and Gorging Shade, and through the duration of this episode, we listen to, and discuss, each of these fascinating projects.
Hunter, Gael, and I also talk about Sepultura, Samael, and ponder the very nature of instrumental music.  So please pass the aux to Hunter and Gael, grab yourself a biscuit or two, and prepare yourself for some awesome music, and even more nerdy obsessive music discussion.
https://canvassolaris.bandcamp.com/releases
--------------------
"I Hate Music" theme by Marius Sjoli.
--------------------
https://www.facebook.com/hatepod.music/
https://www.instagram.com/i_hate_music_podcast/
Email and listener suggestions to: hate.pod.music@gmail.com
Donations to support our podcast: paypal.me/hatepod
#ihatemusicpodcast
**I Hate Music is an Earth in Sound Production**
https://www.earthinsound.org/